239
Beginner's Guide to Understanding Google Plus
Are you new to Google Plus and need help getting started with the network? This page was made with you in mind! This intro course is provided FREE to everyone to show the quality of work that has been put into organizing our course material. All links from this course lead to paid course material, please click here to read more about this course and sign up.
What is Google+?
Google Plus acts as a "social layer" for Google, the world's largest search engine company, and is integrated into its every product and service, such as Search, Android, YouTube, Chrome, Local and Drive.
At its core, Google Plus is an interest-based platform where like-minded individuals communicate, collaborate and create as a community. Unlike other social media networks, this platform gives you an unparalleled opportunity to forge meaningful, long-term relationships by consistently engaging with peers and other industry experts.
Table of Contents
Note for First Time Users: Use the following links to jump to the sections you need assistance with. This structure is used throughout all training modules. After "jumping" to the section, you can also use the bottom right arrow in your browser to jump back to the top of the page if you want.
On May 21st, 2015, Google+ removed the
Google Ripples
feature that visually showed post sharing activities. This guide was updated to reflect this change.
See how Google Ripples looked here
.
Why is Google Plus Important
Google Plus is unique because it functions as a micro-blogging, video-conferencing and community-based forum all at once. Consequently, it offers multiple ways to share your content with an interested audience. Features such as Circles and Communities enable users to take control of whom they interact with by allowing them to organize and sort their connections. Its free video-chat service, Hangouts on Air (or HOA), personalizes "virtual" relationships in a manner that is educational, entertaining and engaging. Further, a feature such as Google Plus Local allows local businesses to improve their brand visibility and interact with their customers on a social level.
The greatest advantage of being on Google Plus is perhaps that it is backed by a powerful brand like Google. While there is no proven evidence of a direct correlation between social signals on this network and search engine result page (SERP) rankings YET, the Hummingbird update has made it clear that authority and reputation play a powerful role while ranking websites.
Google Plus posts are indexed by search engines, and its Profiles and Pages are treated much like any other website and given a PageRank by Google. Hence, any inbound links that lead to your Profiles and/or Pages act as powerful social signals, having the potential to impact your search engine results page ranking. Finally, Google Authorship is a powerful tool to lend a face to an author's name, thereby building credibility and reputation.
Overall, Google Plus offers several versatile, cost-effective and easy-to-use tools that will position you as an expert in your industry and considerably strengthen your brand.
The Time to Join Google+ is NOW
Google Plus has over 540 million active monthly subscribers across all Google services and 300 million active users to the Google Plus stream, second next to only Facebook, having overtaken Twitter in January 2013. Clearly, this social network is poised for explosive growth.
However, Google Plus is still in the "early adopter" stage. Despite the aforementioned benefits, this platform is referred to as a "ghost town," having not been embraced with the same zeal as Facebook, Twitter or even Pinterest by the "mainstream" audience. But, like with most products and services, becoming an early adopter of Google Plus will give you the much needed edge over your competitors.
With its abundance of free tools and connection opportunities, Google Plus is the ideal platform to become known as a thought leader for your industry. Getting in early will allow you to establish authority and trust with other pioneers. In today's customer-centric, socially-driven world, creating transparent, trust-based relationships is one of the most powerful assets for any business. This way, you will always be a step ahead of the late entrants who wouldn't have fully comprehended the tremendous potential of Google Plus as a social media marketing network for businesses.
Now is the right time for you to join this fun, friendly and favorable community. Jump onto the Google Plus bandwagon today and experience the immense reach, visibility and connectivity benefits of Google's social media layer.
Registering Your Google+ Account
The process is rather simple. If you don't have a Google account, get one. Otherwise, click here to be taken to a screen like this:
The boxes should be filled out for you already, you just need to click that blue "Upgrade" button and you're account will go live. From there, Google will ask you to add people from your address book and show you how to get started.
Don't Be a Bluehead!
The absolute worst thing you can do is leave your profile photo the default bluehead. I highly recommend an actual clear face photo, either professionally photographed or you performing or doing one of your favorite hobbies and/or family-friendly activities.
Updating your cover photo will increase interest in you, interest in your profile and interest in your content. In social media, interest, which leads to networking, is everything!
Later on, I'll be teaching you about circle sharing and for me and several of my circle sharing buddies, we actually make it a point to remove blueheads! This means that people I have gathered and were going to make my hot circle share got removed just because they didn't update their profile photo!
What are circles? Why do I need them?
Think of Google Circles as categories. You likely have many interests in life and finding people to fit those interests on Google Plus is easy and fun with a quick Google Plus search. With Circles, you can categorize people by your interests.
Create many circle groups around your interests, business(es), and more. There's no limit to the amount of circle groups you can create, so go nuts. Trust me, as you grow your Google Plus, you'll want to be able to take advantage of other advanced features we will be going over in this mastermind course.
Begin managing your circles on Google+ – Click here.
How Do I Share Something on Google+?
Using the animated GIF I created for you on the left, you will need to find the small arrow icon on the bottom of the post you'd like to share, then click the share button to share this post.
In my example here, I chose to share it to Public but you can share a post to a community or share the post privately to whatever circle groups you have.
If you choose "Your Circles" as your share option, then the post would be available for viewing by anyone that you have in any circle group.
If you choose "Extended Circles" then your post would be available for viewing from all of your circles and all of their circles as well. Your extended circles include people in your circles' circles. Content shared with your extended circles will be visible on your posts tab to people who have access.
Getting back to communities, it is a little trickier, but if you know the community you'd like to share a post to, just click the share icon, remove whatever Google has in the "To" box and begin typing your community that you'd like to share to. Some communities have categories within them that you would need to select from before you can share to that community.
How to Increase Engagement
Google Plus is a social networking platform and, because of that, engagement is your key to success. This platform was founded on the principles of learning, sharing, caring and growing as a community. The most successful Plussers generously share other people's content and take pleasure in watching others strengthen their brand.
In other words, knowledge-hoarding has no place on Google Plus.
To this end, the social signals addressed in this section allow you to endorse someone else's work in public. They act as wonderful networking tools because appreciating the content of others will get more people to check out YOUR profile and posts. Relationship-building is very important to succeed in today's social world, and the following signals will allow you to create the 'right' relationships the 'right' way. As a side note, when social signals gain more prominence in search engine ranking, these features will become even more crucial to improve your online visibility and build authority.
The +1 Button Explained
Plus One (+1) is a 'virtual recommendation' and the Google Plus way of saying, "I like this post" or "I agree with this post." The author of the post will then be sent a notification that their post was '+1'd' by you. When you share a useful post from a website outside Google Plus, say from a blog, by clicking on the "G+" social media icon, you are automatically +1'ing' that post. Higher number of +1s indicates that the post resonates with more people.
Plus One also acts like a bookmark because Google Plus stores all the pages that you have +1ed from around the web in your Profile. You can choose to display your selections to others by modifying your Google Settings.
The Share Button Explained
By sharing content, you are going one step ahead of the +1. Instead of just 'liking' a post, you are now 'recommending' a post to your Followers, thereby improving the visibility of that post. A notification will be sent to the person whose post you are sharing. As mentioned above, the basis of Google Plus is 'sharing'. The more you share, the more people will notice you. It is, therefore, one of the most effective techniques to build connections in this community.
In fact, it is strongly recommended that newcomers on Google Plus spend the first month or two just sharing other people's content. While sharing a post, don't just click on the share button and make your post. Instead, add your own comments and thoughts to the original post (while sharing), so you will be looked upon as an independent thinker.
As your reputation grows and you build a network of interested followers, you can then start posting your own content along with sharing other content that interests you. With appropriate content and connections, your posts will soon start getting engaged with, including shares, plusses, and comments. This unique give-and-take relationship on Google Plus is one of its strongest differentiating qualities and cannot be found on any other social media platform.
What is a Mention?
"Mentioning" or tagging someone is arguably the strongest social signal of Google Plus, and is used when you want to acknowledge someone's contribution (in public or private). It acts like an alarm by grabbing the attention of the person being mentioned.
In order to 'mention' someone, just type '+' followed by that person's name. A notification is immediately sent to that person who will then, hopefully, return the favor by acknowledging you. If you are mentioning people who don't have you in their circles yet, this action might sufficiently interest them to check out your profile and follow you back. That is, a simple plus sign has the potential to result in another beautiful and beneficial connection!
Tagging someone is also a way of expressing gratitude on this platform, and is particularly powerful while sharing a post. When you tag original authors while sharing posts, you will not only arouse their interest, it is also your way of sending them a 'personal Thank You note' for some fantastic content. If you are re-sharing a shared post, mention the original author and the person who shared that original post. If a post has been shared multiple times, mention the original author and one or two other people who shared that post.
To sum up, +1, mention and share are highly useful engagement tools on Google Plus for creating mutually beneficial, long-term relationships with a relevant and rapt audience that is willing to soak up more of your content.
Google Plus Reshare Etiquette
One of the strange ways Google Plus works is if you reshare a share, the middle-man will not be credited or shown in your post. Huh? Let me explain:
Lets say you came across this post on the left in Google Plus. You find it valuable and want to share it on to your audience in Google Plus.
Obviously, you'd hit the share button, type a great description like I did, and share it on. But what happens to "Scott Buehler" in this case? His post was a share of Jason T. Wiser's original post.
What would happen is Jason's post would appear under your comment and leave me completely out of the equation. That's where reshare etiquette comes in to play. When you come across a post you want to share and it was already shared by someone else (Scott Buehler in this case), you should:
Click the share button and type your description.
In the description, you should include: H/T +ScottBuehler
Then share the post.
H/T means Hat Tip. This is telling your audience that you found this original post from a share that Scott Buehler posted on his stream and you are thanking Scott for helping you discover the content.
What this will do is cause me to get a notification that I was mentioned which I will likely return a comment thanking you for the H/T.
Google Plus Formatting Options
As you can see in the screenshot above, there are three ways to format text for your Google Plus posts.
*Bold* – Using asterisks will bold the text.
_Italics_ – Using underscores will make the text have italics.
-Strikethrough- – Using dash with cause a strike-through effect.
I posted the above rich text demo to a private post to show the outcome of the above post. As you can see to the left, once posted to Google Plus, the text has the intended bold, italics, and strike-through effects we wanted.
Use formatting as much as possible to create attention-grabbing headlines and to make the text flow better for the average reader.
Google Plus Pages for Beginners
While Google Plus Profiles represent individuals, Google Plus Pages represent 'entities'. An entity could include a brand, product, organization, local business, cause or other categories. However, much like Google Profiles, Pages too are ideal to position you as a thought leader. These are excellent opportunities for entities to showcase themselves in a manner that is unique, fun and memorable. You can manage up to 50 business pages using a single Google account, and each page can have up to 50 managers.
With the prevalence of Internet in our lives, it has almost become a norm to search for businesses online before deciding whether to connect with them. Google Pages makes it easy for customers to find your business on different channels, such as Search, Mobile, Google Plus or Maps, using any device. Take care to fill the About section of your Page completely because this will enable current and potential clients to get in touch with you at the right time and right place.
In addition, the world has gone social and 'talking' to your customers has become a necessity. Google Plus Pages allow you to engage in an interactive dialogue with your audience and build a loyal following. For instance, features such as Reviews help you immediately understand how the world perceives you. A well-maintained Google Plus Page will be responsive and proactively address any issues. By consistently keeping in touch with customers, a business can give rise to brand advocates who will happily recommend and share your content across the web.
Bottom line, customers want to feel like they matter and Google Plus Pages guide entities towards achieving this goal!

Introduction to Creating Google Pages
Google Plus Pages allow entities, such as brands, organizations and causes, to have an engaging public presence online and especially on Google Plus. With similar interactivity and privacy features as a Google Plus Profile, Google Plus Pages has the potential to strengthen your brand considerably.
Creating a Google Plus page is a simple and FREE process that only requires a Gmail ID. The various types of pages allowed are:
Local business or Place Page
Product or Brand Page
Company, Institution, or Organization Page
Arts, Entertainment, or Sports Page
Other (Use if your page doesn't fit in another category)
As mentioned in the Why Is Google Plus Important section, Google Plus Local is a powerful tool for local businesses because it allows you to gain valuable real estate on Google and communicate in a personalized and proactive way with your current and potential customers. But before creating a Local Business or Place page, it has to first be verified by Google. They do this by sending a verification pin – either via phone or mail. It should be noted that this pin is valid only for 30 days. Once you verify your page using the pin, you are allowed to create a Local Business or Place page.
Apart from the additional verification step for the Local Business or Place page, most of the remaining steps are the same for the rest of the pages. You will be asked to select a Category (this step is not there for the Others page), select a Page name, provide a link to an external website, select the appropriate audience and accept the terms and conditions. Voila – you have created a page!
By default, the Google Plus Pages settings are public. But you can control the visibility for many profile features and posts, adjust notification settings and choose your audience.
Google Plus provides you with an effective, feature-rich platform and a user-friendly interface to vitalize the online presence of entities. Take advantage of this opportunity to create an enviable brand perception and reputation in the minds of your audience.
Fill in the About Section of a Google Plus Page
The About section is the 'soul' of your Google Plus Page, and gives entities an opportunity to create a strong brand perception in the minds of their audience. This is your chance to communicate your personality, values and accomplishments by striking a balance between brevity and detail.
As depicted in the following screenshot, there are four sub-sections in the About tab: People, Story, Contact Information and Links.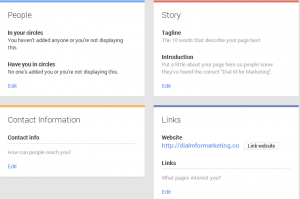 Let us look at each separately:
People
Gives you an immediate insight into your Circle counts
Story
This is the most important sub-section because it allows you to convey the essence of your entity. Use a clear and concise tagline – with the appropriate keywords – that quickly tells your audience who you are. This tagline is displayed in your hovercard, which is like your Google Plus business card and comes up every time somebody hovers the mouse over your Profile Picture. Hence, extra care must be taken to depict your company in the best possible way.
On the other hand, the Description section is the place to get imaginative! One of the best features of Google Plus is that it offers unlimited space for the Description. Hence, utilize this opportunity to position your entity as imaginative, innovative and interactive. Again, sprinkle the most important keywords without coming off as spammy.
Contact Information
Filling out your contact information thoroughly makes it easy for others to find you.
Links
Make sure you enter the link to your website. You could also add links to other pages that appeal to you in order to give a more complete picture of your entity's interests.
To sum up, filling in the About section completely is key to improving the reach and connectivity of an entity. So be creative, honest and comprehensive.
Sharing a page to your main profile for exposure
There are multiple ways to increase the visibility and exposure of a Google Plus Page, one of which is to share it to your Google Plus Profile. This is especially beneficial if your Profile is followed by a large number of people.
Most Plussers tend to look at your Profile before deciding whether to circle you. Hence, specifying the link to your Page on your Profile might encourage visitors to check out your Page too.
We tend to shy away from Google Plus Pages because they represent 'entities' or 'brands'. There is a natural level of distrust associated with them. On the contrary, Profiles represent people, and therefore seem more 'human', which automatically draws more visitors.
Hence, it makes sense to utilize the power Google Plus Profiles to promote Google Plus Pages.
Google Plus Hashtags Explained
Hashtags are useful inside Google Plus because they help you find posts that use them and also help you organize your own posts that use them. As an example, I've started my Hyperball shared circle to reward people who are active in my posts as well as a way to help people populate their Google Plus feeds. In my posts, I use the hashtag #hyperball so that people can find my circle shares easily.
How to create a hashtag? Simply use "pound" in front of the word. Using #extremenetworker in your post, when published, will create the link #extremenetworker.
How can I use hashtags? You can click them from other posts to see topics posted with the hashtag or use the Google Plus search to see them in action. Try a search on your interests and you'll likely see many posts using hashtags.
When you do a search on Google Plus, you'll see a grey search bar below the search field that allows you to filter your results. If you'd like to see what your circled friends are posting with that hashtag, click the More option then "From your circles" as shown in the screenshot above.
There are many ways you can use hashtags in Google Plus. You can create your own, use them privately, categorize all of your posts, and however else you feel they might be of value to you.
In the interest of most exposure to your posts, the first 3 hashtags are the most important because they are given priority in the actual post as shown above (on the upper right). Personally, I rarely exceed using more than 3 hashtags per posting, however, my circle shares I do use a lot more. Depending on how many words you use in your post, even if you use no hashtags at all, Google Plus will automatically add their own most relevant hashtags to your post (unless you specifically say not to in preferences).
Google Plus Communities Explained
You can think of Google Plus Communities like Facebook Groups. In that sense, the community on Google Plus is the "forum" and Internet discussion section based around thousands of topics. You can find communities that discuss art, science, literature, social media, amusing memes, animations, music and many more.
All you need to do is search Google Plus for a topic that interests you, and then click on the Communities link in the navigation bar to find communities on that topic. Or, you can browse all communities on Google Plus and find ones that interest you as well. In the example above, I've searched for "tigers" to bring up a listing of communities that have "tiger" in their name. After finding a community that you want to join, click on the community to be taken to its page and click the "Join Community" button to be added.
Once you find some awesome communities based around your interests, I highly recommend circling people that provide excellent content. This way, you can follow their posts on your main feed and engage their content. The more you engage with them, the more you become part of the community and the more popular you'll become (often, they will circle you back if you post great content too).
With Communities, you can create Private Communities or Public Communities.
Private Communities – These communities are geared to be an exclusive group of permitted people. As a creator, you can mark these to not be searchable within Google Plus or you can allow them to be searchable but members must ask to join to be a part of the community. An example of this use: A company wants a central location for all of their employees to discuss topics, rant, suggest, and more, but hide the topics from the general public and Google Plus users.
Public Communities – As it sounds, these communities are open to the public. The communities are searchable within Google Plus search and as a creator, you can leave the community open for anyone to join or you can set it so that users must request to join and be approved before they can contribute to the community.
The Basics of Google Hangouts
Google Hangouts are a way for you to video-chat with one or more people directly with other Google account owners. Besides video chats, you can also engage other members in group conversations, chat, and so much more. Take a look at Google's Hangout video:
Hangout operators can also do "Hangouts on Air" and record the entire session directly to YouTube to share and view later which is an amazing feature. The Hangout possibilities are endless. Strike up a conversation with a group of people you find interesting, have weekend gatherings, heck, play a few games together in a hangout session. The best part about hangout is, once you have a decent following, you can start your own hangouts and make yourself an authority on a topic that interests you. If you know a topic extremely well and want to share your knowledge, starting hangout sessions might be your ticket to fame on Google Plus.
Muting or Blocking a Person on Google Plus
Once you get a decent following, it is inevitable that you will start receiving SPAM or unwanted content from people on Google Plus.
Using the diagram above, you will need to browse to the person's main profile then click the down arrow and select either:
Mute <person>
Report / block <person>
If you click the Report option, you will receive the screen above to select the options you want to use to block the person.