1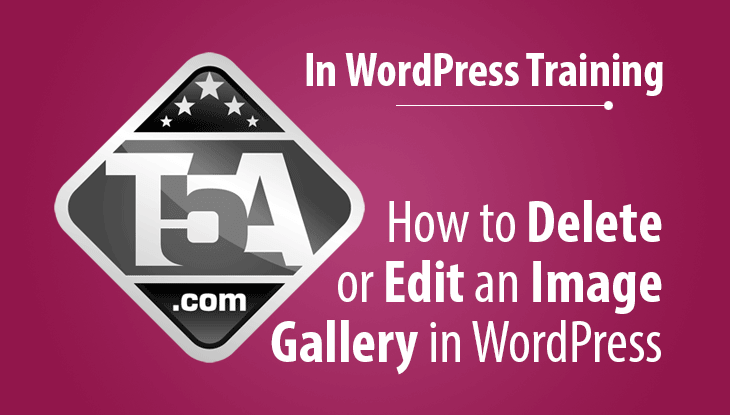 How to Delete or Edit an Image Gallery in WordPress Posts
In one of our previous WordPress Guides, we showed you how to add images to your WordPress posts which included a section on adding an image gallery with a working example.
After releasing that guide, I remembered we had a couple business clients that were using the keyboard backspace key to delete and then recreate the gallery to edit it. Once I showed them the correct way, they were thankful to say the least!
Editing an Image Gallery
Editing an image gallery is quick and easy to accomplish once you realize how it is done.
In the Edit Post screen, locate the image gallery in the post and then click on it to reveal what I am highlighting above in my screenshot.
After the click, you can then click the little pencil edit icon and make changes to your gallery. This will make a full screen edit window appear with options as shown below.
In the edit window, you can change the captions, Add to Gallery, rearrange the order of images (click and drag) and on the right side, change your Gallery Settings. If you don't like using  the ## column you set (or it looks bad on the front end), you can change the value, change how the images are linked and all of the other settings you set when creating the gallery.
Everything that you can do to create a gallery can be done when editing your gallery as well.
Hopefully this will save you heaps of time and effort in the future when you need to change a WordPress gallery within your posts!
Deleting an Image Gallery
There's two ways you can delete your image gallery and remove it from your WordPress post.
Click the text that follows immediately after your gallery and then use the Backspace key. Of course, you can also click your cursor before the gallery and use the Delete key if preferred.
Click the gallery itself and then click the X on the little toolbar that appears above the gallery.
Once your gallery is deleted from your post and you save, the gallery will no longer appear in your post.
Don't forget to clean up your Media Library!
If the images used in your gallery aren't going to be used in the future and you know the images aren't used in your other posts, after saving your changes to your post, click the Media button in your dashboard.
Once your are in the Media Library, use the Bulk Select button as shown above. This will allow you to select the media files you want to delete permanently.
Select the media files then click the blue Delete Selected button to delete the images. Clean up completed!