1
EverSmoke Review
EverSmoke Gold Medal Award Winner by Top Five Advisor
EverSmoke is one of the newer brands that offer electronic cigarettes but they're one of the top brands in the market today. They focus on making it simple and not complicated so the user will not have a hard time using and maintaining their e-cigs. You basically have to simply attach the cartomizer to the battery, replace the cartomizer with a fresh one and charge the battery when needed.
What You Get in the Package
EverSmoke has several packages and options to choose from. Below, we review each package and show you what is included.
EverSmoke Basic Starter Kit
An introduction kit for those who wants to start vaping and do away with the traditional cigarettes. This is the starting kit to help you move to a healthier alternative to getting your nicotine cravings fix. It includes:
1 Lithium Ion Battery (High Capacity Automatic or Manual)
1 Lithium Ion Battery (Standard Capacity Automatic or Manual)
1 Portable Wall Charger
1 USB Charger
5 nicotine cartridges with your choice of strength and flavors
Manual
Price: $49.99.
EverSmoke Pro Starter Kit
Their most popular starter kit that gives you the option to change from short to longer batteries.
1 Lithium Ion high capacity battery (Automatic or Manual)
1 Lithium Ion Standard battery (Automatic or Manual)
1 Power Cig
1 USB charger
1 Wall charger
1 Car charger
10 nicotine cartridges of your chosen strength and flavors
Manual
Price: $79.99.
In comparison, this kit includes everything from the basic kit above but also includes the power cig (continuous power), a car charger and 10 cartridges instead of 5.
EverSmoke Ultimate Starter Kit
If you want the best from EverSmoke then this is the kit you must have. If you want a luxurious vaping experience then the Ultimate Starter Kit has everything you'd eer need for the luxurious and most convenient vaping. It includes:
1 Lithium Ion battery (high capacity, automatic, your choice of color)
1 Lithium Ion battery (high capacity, manual, your choice of color)
1 Lithium Ion battery (standard capacity, automatic, your choice of color)
1 personal charging case. Keeps the short batteries charged on the go.
1 Power Cig
1 USB Charger
1 Wall Charger
1 Car Charger
1 Black carrying case
15 cartridges of your choice of strength and flavors
Manual
Price: $149.99.
In comparison, you'll get everything from the pro kit above and also a personal charger case, an extra high capacity battery, 5 extra cartridges and a black carrying case.
EverSmoke Couples 2 Kit Combo
For couples or for those who simply want to order 2 basic starter kits with an extra discount. It includes:
2 EverSmoke Basic Starter Kits
2 Car Chargers
Price: $99.99.
EverSmoke Reusable Express Kit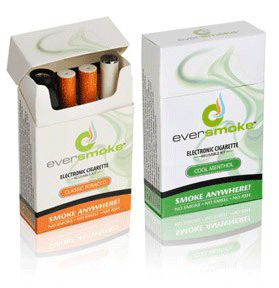 If you want an affordable and convenient kit then this is for you. It looks like a regular cigarette box but when you open it you will find 2 cartridges, 1 charger and 1 battery. It includes:
1 Lithium Ion standard battery.
Choice of 2 flavors, tobacco or the menthol flavored reusable kit – 18mg nicotine is the only option.
1 USB Charger
1 Cigarette Box
Price: $29.99
Battery and Charging Performance
You can have the manual or automatic batteries with their starter kits. Each battery comes with a choice of "cigarette paper" white, gloss black, or stainless steel.
Standard Battery – This battery will last you for 250 puffs on the automatic battery. On the manual battery, it will last 25% less than automatic, or approximately 187 puffs.
High-Capacity Battery – Their most popular battery due to convenience. It will last 350 puffs on the automatic. On the manual battery, it'll last 25% less than automatic or approximately 262 puffs.
According to the manual, the batteries can be fully charged fully within 4 hours depending on how far the battery is drained. When you first receive your kit, it should take no longer than 2 hours to charge as they ship with a partial charge.
Batteries not your thing? Be sure to check out the Power Cig option that allows for continuous use with a USB connector which can be used in any USB port.
EverSmoke Pros
The cartomizer lasts a little longer than their competition and if you use the high-capacity battery, you'll get up to 350 puffs before needing a recharge. They offer a 30-day money back guarantee on all products except cartridges.
EverSmoke Cons
The batteries can take up to 4 hours to charge according to the manual. EverSmoke does not offer an E-Liquid solution for those that like to mix flavors.
Flavor Options
EverSmoke flavor cartridges are intended to look like the traditional cigarette filter. These catridges connect to your electronic cigarette battery to deliver the desired taste and smoke as you puff.
Since our last review, EverSmoke has made improvements to their flavor lineup by increasing from 6 to 10 flavors.
Flavors are: Classic Tobacco, Royal Tobacco, Golden Tobacco, Menthol, Peppermint, Vanilla, Coffee, Cherry, Peach and Pina Colada. Be sure to click the Cartridges tab on their site and check out the 10-pack flavor sampler for $26.60 that gives you one of each flavor to help you determine which flavor is right for you.
As far as your flavor ordering options, you have a choice of 3 quantities all of which are priced the same no matter which flavor you like the best.
15 Packs – $39.99 or $2.66 a cartridge.
30 Packs – $69.99 or $2.33 a cartridge.
45 Packs – $99.99 or $2.22 a cartridge.
EverSmoke Help and Support Review
EverSmoke offers several options to get support if you have problems using the product. First, be sure to check out their manual that ships with the starter kit as it provides every detail you'll need to get started.
Additionally, they have a small FAQ section available, a direct email address to use for support, a toll free telephone number that is available from Mon-Fri 8AM – 10PM EST.