SentryPC Review
SentryPC Platinum Medal Award Winner for Best Monitoring Software
SentryPC is a relatively newcomer to the monitoring software market but is backed by a veteran monitoring software company Spytech which has specialized in monitoring software like
SpyAgent
for well over 15 years now. The difference between this software product and the rest of their lineup is the fact they give you a full real time solution that allows you to access all of the data through a secure cloud-based account.
As long as you have Internet access, you will have access to the data that you configure SentryPC to collect on your children's Internet activities. SentryPC is compatible with any Internet connected device, simply visit their site which is mobile-responsive and login with your username and password. From there, all of the data is available to you, whether it is on an iPhone or laptop.
SentryPC Pros
The easiest management software on the market. All you need to do is install the software on the PC you own and everything else is handled via the Internet on any Internet-connected device you use. Change settings, access real time logs and more via your secure username and password.
SentryPC Cons
Unlike other solutions, SentryPC requires renewal after the period of one year. Of course, you'll also have access to the latest software with no upgrade fees.
Remote Access to SentryPC Data via the Cloud
Once you login the SentryPC via their website, you will be presented with the following administration dashboard that will give you access to all the the logs and reports. Additionally, you'll be able to configure all of the settings that will record and monitor all of the activities of the PC being monitored.
The black navigation menu on the left provides quick and easy access to all of the features offered including activity monitoring options, content filtering options, time management, security options, a real time activity viewer, usage reports and more. you'll also have easy access to the latest software to download at any time on the bottom left of this menu.
On the upper right, you can click your username and see the current status of your subscription including how long until a renewal is required. You'll also be able to add more licenses, change your account email and password and other account related information.
Activity Monitoring & Recording Puts You in Control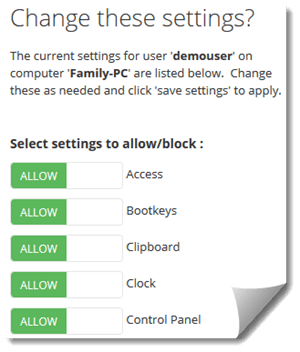 During our trial run of SentryPC we will quite impressed with the configuration options and how the data is presented. We could tell a special care was put into making the system as user friendly as possible while still offering a powerful solution that provides all the features you'd expect in a monitoring software solution.
Not only can you configure the exact features recorded, but as we show here, you can also prevent access to specific features on a machine for a specific user as well. Don't want your kids to access the control panel, click "Allow" and it turns red to "Block" and, once saved, that user won't be able to access the control panel. Easy!
Prevent Monitoring of Specific Users
A common problem users of monitoring software face is when a computer is shared by the entire family. What if you don't want the parents' Internet activity and software usage recorded? With SentryPC, you are placed in full control of exactly who is recorded and what is recorded of that user.
Simply go to Activity Monitoring > Settings and then click edit next to the user you want to configure. From there, you'll be presented with the options shown on the right where you can disable all monitoring for a specific user or disable the monitoring of specific features.
Full transparency: If you want to be fully transparent with your children, you can. Simply change the Notify user of their activities are monitored? to Yes and they will be notified that their activities are being recorded. Of course, if you have a specific reason not to let them know, that's up to you as the parent.
Stay Active – Remind Yourself
What good is using monitoring software if you never remember to login and see what is going on with the computer you want to monitor? With SentryPC, simply go to Activity Alerts > Notification Settings and then edit the users of the PC to configure the notification settings.
You will be able to disable/enable notifications or turn on notifications for:
Applications blocked.
Chats blocked.
Keywords / Phrases blocked.
Websites blocked.
Additionally, configure how often the emails will be generated from 60 minutes to 1,440 (daily) if you wish.
Content Filtering
Take full advantage of SentryPC's notification settings talked about about and configure Content Filtering on specific or all users. You can filter by application, chats, keywords / phrases, websites (by category) or websites specified by you.
To take full advantage of this feature, we recommend leaving SentryPC installed for several days if not a full week and then return to the administration area and configure the Content Filtering options made available to you. What this will do is allow SentryPC to collect data including applications, chats, websites, etc so that you can then go in and start filtering. Here's an example:
Your Child is Addicted to World of Warcraft (an MMORPG)
There's nothing more frustrating than fighting with your kids to do their homework after constant fighting about the amount of time they spend playing their favorite game.
After installing SentryPC and allowing it to collect data on the computer they use, go to Content Filtering > Applications > Filtering Rules tab. From there, find wow.exe under the username your son or daughter uses then click View / Edit.
From there, you will be presented with the screen similar to the one shown on the left. You will be able to limit the usage of wow.exe down to the hour. Simply click the times you want them to have access to the game (turning it green) and setup the exact days and hours you want them to have access.
These rules are configured by the user and by the application. You could entirely block an application if you wish by simply using the "Block All" button.
Time Management
Besides the specific control of applications, there's another layer that you can utilize under Time Management in the dashboard. This is another amazing feature that allows you to configure how much time your children are allowed to use the computer. We showed you how to use SentryPC to block usage and times of specific applications like World of Warcraft but what if you want to limit the hours that a child uses the computer? With SentryPC, you can!
If you wanted to block WoW access so that they can only play the game for 3 hours per day but allow the computer to be available for 12 hours a day, you can.
Under the Time Management section in the dashboard, simply click the edit button next to the user you want to time manage and configure the time settings. On this screen, you can configure:
Alert user: Let them know in XX minutes, their access will be blocked.
Reset every? Select a day you want the usage reset.
Maximum hours for the week: Set XX hours before they are locked out for the rest of the week.
Monday – Sunday maximum hours: On each day, you can set how many hours they are allowed to use their computer.
After configuring the settings, you can then tell that child that they are allowed to use the computer for 30 hours per week as they see fit. You could also set each day to allow 8 hours of use. Should they use 8 hours per day for 4 days, they will hit the 30 hours and be locked out until the start of the next week (which you control the reset day).
What's Recorded?
You will have access to applications uses, chat conversions, events timeline, file activity logging, keystrokes typed, location logging, print job logging, screenshot capturing, session logging, website usage logging and window usage logging.
With the screenshots feature, the default pricing includes access to 500 screenshots saved at any one time. After 500 screenshots, the older screenshots will begin to be deleted and new ones saved. Of course, if you'd like to have more screenshots available to be saved, you can opt to pay a one time fee of $19.95 to allow for another 500 screenshots.
Licensing
SentryPC is not a one-time-purchase solution, however, it does provide you with constant updates and support for one year at the price of $59.95/year.
The license includes the monitoring of one PC which can include an unlimited number of users on that PC. If your family uses one PC in the household that everyone shares, then the total price you will pay is $59.95/year.
If you have more than one PC in the household, SentryPC allows you to purchase additional licenses at only $19.95/year extra which is an awesome deal. Unlike most software solutions, you won't need to pay the full price for each computer which is a really nice touch.
5 Computers? Only $139.75/year to monitor their PC usage and to enable time limits.
Of course, if you are business that has more than 50 computers, you will want to check out our SentryPC for Business Review which covers this software from a business point of view.
Summary SentryPC Review
After getting our hands on a copy of SentryPC, we were quite impressed with the way this monitoring software works. Once you install the software on a PC you own, everything, including configuration, is handled via their website. Once installed, we saw activities immediately under the "Real-time Activities" section which let us know that the software was working right away.
That being said, as with any monitoring software solution, if you use any sort of antivirus or Internet security software, you will want to read their help documentation to setup exclusions for this software to run properly. Most antivirus software will instantly detect the programming required to collect data on a computer, which is a good thing, so you should expect some additional configuration to make sure SentryPC will function as you'd expect.
As for the dashboard area that is available after logging in, we became annoyed at the constant collapsing of menu sections. If you click on Activity Monitoring and then click Keystrokes, the left menu "Activity Monitoring" section will collapse requiring additional clicks if you want to see Events, Locations, Websites, etc. We'd like to see the menu not collapse because it often causes confusion as to what section you are viewing. Thanks to this review, the developers addressed and fixed this issue.
Overall, even though we found a couple issues, the software far exceeded what we were expecting and decided to award this software the Platinum award because it out-performed several monitoring software solutions especially in the user friendliness category. If you are looking for a decent monitoring software solution that is priced fairly (only $59.95/year!), we highly recommend SentryPC.