2
KnownHost VPS Review
KnownHost Gold Medal Award for Best VPS Hosting by Top Five Advisor
KnownHost is a hosting company that specializes in Virtual Private Servers and has been a specialist since 2005. Over the years, the company has enjoyed continued growth as an industry leader. In fact, the owner of TopFiveAdvisor,
Scott Buehler
has been a continued customer of theirs since 2008.
KnownHost offers both standard hard drive VPS plans and SSD VPS plans as well, so keep that in mind. We were most impressed with their customer support during the years we've been their customer. Whether you are a newbie VPS user and just signing up or if you are a veteran with years of experience, the KnownHost support team will go the extra mile to resolve issues or answer questions. There's been times when we've wanted to leave a TIP to support reps because they went way beyond what we expected. The word impressive doesn't quite describe the awesome support you'll receive.
After our review, if you decide to purchase, remember to copy your coupon code KH15LIFE to your clipboard for use during checkout.
KnownHost Pros
They offer a massive package selection that is sure to fit most needs. SSD plans are available for optimal performance. Very awesome support staff with quick response times.
KnownHost Cons
Their knowledgebase could use major expansion and updating. Most of the answers in this area is simple 1-2 sentences with little elaboration.
KnownHost VPS Plan Comparison
During your investigation process, you'll likely find yourself flipping between the SSD and standard HDD pages to compare the pricing to make your decision. To make things easier for you, here are all the VPS plans they offer for you to compare.
Standard HDD VPS Plans (most popular)
SSD VPS Plans
In all, there are 11 VPS plans to choose and upgrade from as well as their managed dedicated servers which aren't covered here since this is strictly a VPS review.
As for pricing, keep in mind that these are all base prices that do not include necessary upgrades you'll need to use your VPS (unless you are an advanced server-level expert). KnownHost has beyond what you'd expect and provides their customers a massive amount of configuration options during the ordering process that will deliver the exact VPS you are looking for without having to call in and make a custom plan.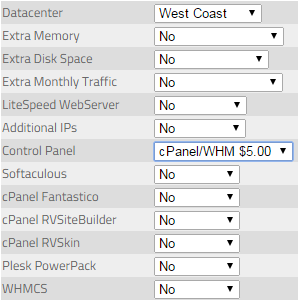 The VPS Upgrades You'll Encounter
In order to prepare you for your VPS order, we're going to cover all of the options you'll see during the ordering process. This includes everything from hardware upgrades to control panels (with CP options as well).
Data Center – You'll have the option to choose from West Coast, East Coast and Central US (Texas) with the standard VPS plans. If you are going with SSD, this choice is easy as the only option is the Central Texas datacenter. Our recommendation for both is Texas because your site will be in the "middle" for everyone in the US. The only time you should sway from this is if you are a local business and all your traffic comes from your local area. Only then I'd choose a DC closest to you.
Extra Memory* – Add 256MB ($7.50), 512MB($12.50) or 1024MB ($18.50) RAM.
Extra Disk Space* – 10GB ($25), 20GB ($45) or 30GB ($60).
Extra Monthly Traffic* – 250GB ($10), 500GB ($15) or 1,000GB ($20)
LiteSpeed WebServer – A $12 add-on that removes the default Apache configuration and installs LiteSpeed. If you are new to a VPS, we recommend skipping this option. You'll have all the time in the world to research LiteSpeed at a later time to improve the performance of your website page load speeds. You will see an improvement by upgrading, however, the actual increase depends on your application and software used on your site. At a later time, I'd recommend contacting KnownHost support to see if LiteSpeed is a smart move.
Additional IPs – $1 for each additional IP address. Each of their 11 VPS plans comes with 2 IP addresses. Typically, the only time you need more is if you need SSL (eCommerce or for security) on multiple sites. If you do request additional IP addresses, you will be asked why you need additional IPs due to scarcity of available IP addresses and to satisfy ARIN's strict rules regarding IP usage.
Control Panel – cPanel/WHM ($5), DirectAdmin ($5), Plesk ($5) or Webmin (FREE). We strongly recommend choosing cPanel for your VPS as it is the most common control panel that is used with their Linux VPS plans. Unless you already have a preference, choose cPanel and move on.
Softaculous* – A $1 upgrade. This is a software installation add-on that allows for easy installation of popular free software like Joomla, WordPress, phpBB and over 340 more according to the Softaculous website.
cPanel Fantastico* – A $1 upgrade. Fantastico is very similar to Softaculous in that it installs popular free software. It offers the same functionality as the above option and really comes down to personal preference.
Unless your VPS is being used to offer hosting to customers or you don't want to follow simple instructions for free software installs, then we'd recommend skipping both of these options and install the software yourself (WordPress, for instance, is extremely easy to install).
cPanel RVSiteBuilder* – A $5 upgrade. This is a website builder compatible. This is a great feature for those that want to sell web hosting on a VPS so that you can advertise that you offer a free website builder, however, for most, this option should be skipped.
cPanel RVSkin* – A $2 upgrade. This is a multi-language, multi-theme advanced skin management software for your cPanel which is especially useful for branding if you are offering web hosting to clients. For most, this option can be skipped.
Plesk PowerPack – For those opting to go with Plesk, the PowerPack upgrade for $2 allows specific enhancements such as a website builder for 10 sites, Kaspersky anti-virus for 5 mailboxes, a mobile server manager, Tomcat, ColdFusion, and access to PostgreSQL databases.
WHMCS* – This service is a $5 upgrade that simplifies client billing, management and support for those offering web hosting to clients. For most, this service can be skipped.
* We highly recommend skipping these options. Typically, if you need more memory, space or transfer, you'll just want to upgrade your VPS plan which includes extra in all three of these categories.
In summary, for most viewers of this review, you'll simply want to select cPanel/WHM for $5 and leave the rest of the options alone. After selecting cPanel, this page is where you enter the coupon code KH15LIFE and then "Calculate Totals" to go to the summary page of the ordering process which will show you a discount if ordering VPS-2 – VPS-7.
The KnownHost Confidence Factor
KnownHost is extremely confident that you'll love their service. In fact, they offer:
30 Day Money Back Guarantee – For new customers, if you don't like the service, you can request a full refund of your hosting fees within your first 30 days of service.
99.9% Uptime SLA – In the many years we've had service there, there was only one month where they had major hardware failures on our server that triggered us to request a credit on our hosting fees. The discount they offer for outages that last longer than 0.01% of the month, grows according to how long your service is out. For instance, if you experience outages that exceeds a 99.0% uptime, you'll get a 100% discount (see the SLA link at the very bottom of their website).
Extremely competitive monthly pricing to keep you as a customer. There is no annual or longer commitment required. You can sign up as a monthly client and stay monthly if you'd like. You have the option to upgrade to quarterly or more for a discount if you wish.
They do everything right to show confidence in their service to get you to try them over other providers. Once you are a customer, they will continue to provide you with top-level customer support and maintain attractive pricing that will keep you there. It worked, since we subscribed in 2008, we haven't left.
Customer Support Review
The first thing you will notice when you click Support on any of their pages is the up-front response times when submitting a support ticket request. In all the years we've been there, we don't think there's ever been a time when it has taken them longer than 5 minutes to get back to us. So what does KnownHost offer for support? Let's go over the self-help options first:
Knowledgebase – This is the least impressive area of their support section. Most of the documentation in this area is in FAQ format with answers that are one or two sentences long. There's a little over 100 topics in total but most of it is unsubstantial. We'd love to see this improved with more in-depth content written with elaboration that benefits new VPS users.
Troubleshooter and Downloads – Try again. The troubleshooter is empty and the downloads section, when clicked, gives you an authentication popup asking for username and password. We have no idea why these sections are there if they are unusable.
Community Forums – Although the above two caused a hit to our support rating here, the community forums are awesome! Of all the VPS hosts we've reviewed, KnownHost stands out over the rest because the forums are dedicated towards their VPS users (whereas others are mainly filled with shared hosting topics). Currently they have just under 3,000 discussion threads with over 17,000 total messages. Almost every major category has responses within the same month of this review. You will definitely learn tips and tricks as a frequent member of their forums. Bookmark it!
As for getting help with your VPS issue through customer service, there's limited options:
Live Chat – Their live chat is labeled Sales Chat which indicates that the service is their strictly for new customers to ask questions about their VPS plans and specifics. This option is not available for technical support.
Ticket System – This will be the primary way you will get help with a VPS problem. We can say, with absolute confidence, that KnownHost is the best at support with this system. Their response times are FAST and if you give them a complicated issue that requires them to login to your VPS server, they will let you know that they are actively looking into your issue. Their responses for us has been extremely intelligent and consistent throughout every year we've had services there.
Telephone – This option is only available for sales and billing inquiries. No technical support is handled through phone. A toll-free number is available on their contact page.
Their contact page also lists email addresses for general, sales, billing, marketing inquiries as well as technical support. All of these email addresses, when used, will place your request in their helpdesk system for reply.
The obvious negatives are for those who want to use live chat or telephone for technical support. If you are the kind of person who'd rather hop on the phone to resolve an issue, KnownHost is not the VPS provider for you. However, if you can handle or prefer submitting tickets to get your problem resolved, this company is perfect for you and you will not be disappointed.
In Summary
KnownHost comes highly recommended by Top Five Advisor administration. We've used them for years, we constantly recommend them and you are very likely to enjoy their service for years to come.
How has your experience been? We'd love to read about your experience with their VPS service. Please consider sharing your review and ratings of KnownHost with our readers below. How has your overall experience been? How did their customer service treat you? Did they answer your questions fully and did they go above and beyond to assist you?