1
Yahoo Shared Hosting Review
When people think about Yahoo they usually think about Yahoo Search Engines, Yahoo Messenger, Yahoo Mail, Yahoo News, Music, and NBA updates. But Yahoo has a lot to offer and they even offer competitive web hosting packages for those who want to start up and establish their own websites.
Yahoo is one of the most popular names in the World Wide Web and they've been in the business for many years and they sure know what web hosting is and what every website owner wants.
Yahoo Pros
They offer the biggest advertising promotion for Bing/Yahoo advertising with $100 in free credits.
Yahoo Cons
Yahoo's "Basic" plan doesn't include many features users will expect from their host. Missing features on this "Basic" plan are FTP, PHP, PERL, MySQL, phpMyAdmin, and to top it off, only allows 10 site pages. If you need these features, you must upgrade to a higher plan. All plans offered only allow 1 domain to be hosted requiring multiple plan purchases for multiple websites.
Yahoo Shared Hosting Review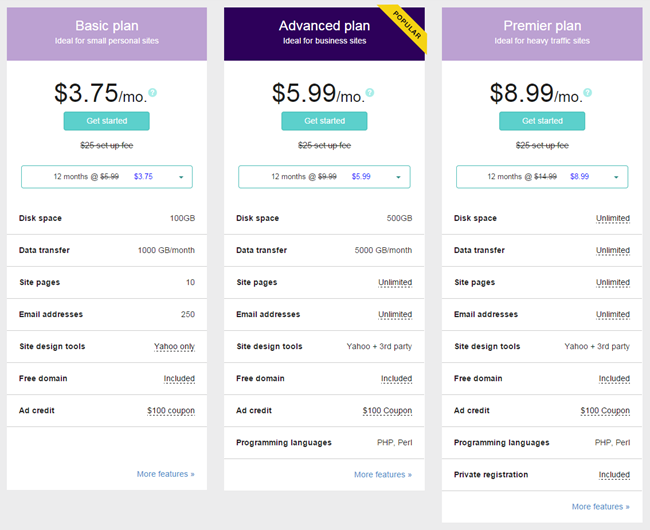 Yahoo Web Hosting packages comes in 3 types; the basic, advanced and the premier web hosting plan. They are offering their 25% off so you can get their plans at a discounted price on the first 3 months then you pay its regular price on the 4th month and so on. You will not be paying setup fees on any plan you choose which gives you a $25 savings.
Yahoo Basic Plan – Regular price is at $5.99 but for the first 3 months it's at $3.75 per month. With this plan you will be getting data transfer of 1,000 Gigabytes a month, disk space of 100 GB and you can only have up to 10 site pages. You can have 1 domain with 100 subdomains and 250 email addresses. This plan is pretty much basic and perfect for those who are starting up and don't want to spend more on what they still don't need for their website. Everything you need for a start-up or small demand site is covered by this basic plan.
Yahoo Advanced Plan – Regular price is at $9.99 but for the first 3 months it's at $5.99 a month only. This is their most popular plan as most websites need this type of plan. It gives you all that the basic plan offers plus more. Instead of 100Gb of disk space you will be getting 500GB and 1,0000GB/month of data transfer. Site pages are unlimited. Yahoo! Sitebuilder is available for the Advanced Plan but it's not available with the basic plan. This is a desktop design tool so you can design your desktop even when you're still not online. FTP accounts, File Manager, PHP, Perl, MySQL and many others are also inclusive with this plan that are not available with the basic plan.
Yahoo Premier Plan – Regular price at $14.99 but for the first 3 months it's at $8.99 a month. This type of hosting plan is for those who are serious web designers. If your website is generating a lot of traffic and you want nothing but the best then this is the plan for you. Disk space and data transfers are unlimited and you get all the features offered under the business plan. For just a few dollars extra monthly, your site will not be limited to what it can achieve.
Their 30-day money back guarantee lets you try their service first and if you are unhappy they'd give you back your money. If you are still a bit hesitant about the web hosting service offered by Yahoo, you have 30 days to give it a try. Surely you'd like it but in case you won't, you've got nothing to lose.
Customer Support Review
Customer support is an essential part of web hosting and Yahoo offers their 24-hour customer support to all their clients from their 24-hour toll free hotline to their 24-hour email customer support. They have video tutorials and a help center that you can get information from. They also have a getting started guide to help you get started right away.
Their Customer Support area has a user-interactive feature to get support. You'll have to select category, narrow down topic and then finally select a specific concern. From there, you'll be taken to a page that answers your concern with various links and resources. They also offer a search box in this area to find answers to your problems in a more efficient manner.
Overall, their documentation area should be improved to make them more user friendly. We've also seem recent complaints about their support department that reflected our customer support rating.