1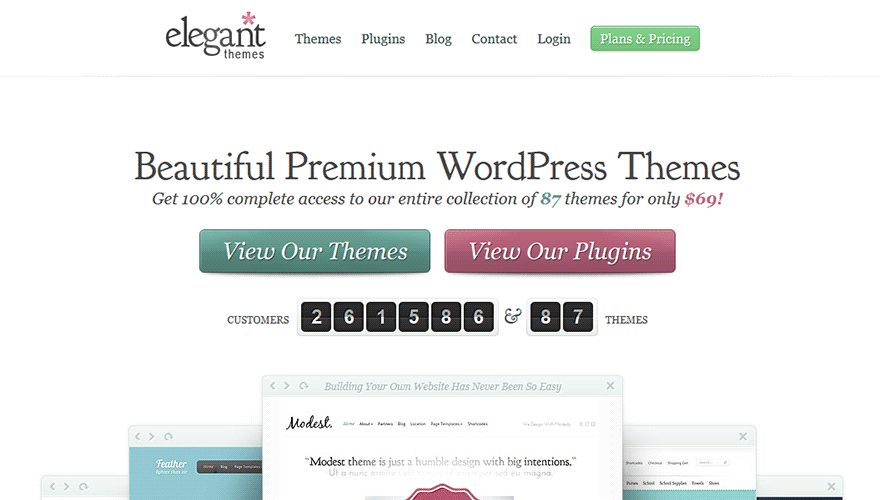 Elegant Themes Review
Elegant Themes Gold Award for Best WordPress Theme by Top Five Advisor
Elegant Themes is a WordPress premium theme club that provides members who pay an annual fee with access to 75 high-quality themes. The price for the package is low, though it does require renewal in order to keep using the themes, otherwise the licensing expires. With beautiful themes, great plugins and features, and excellent customer support, this is a theme club that's well worthy of consideration.
Company Information
Elegant Themes got started in 2008 and receives a lot of traffic. The US-based company has more than a hundred thousand customers and a high page rank on Google. This is one of the few companies we've reviewed which offers a 30-day money-back guarantee. That means that you get a full month to decide whether you want to stick with your year-long subscription or you can receive the entire annual fee back. Most theme clubs don't give you this option, so this is a great plus.
Elegant Themes Pros
Elegant Themes is very popular with TopFiveAdvisor users because they offer over 75 attractive and professional themes for a very reasonable price. Fully responsive themes are available.
Elegant Themes Cons
Annual membership is required. If you fail to renew, you'll lose access to theme updates, tech support, and new themes. However, at their prices, this service is still a great deal!
Licensing Terms
Two different licensing packages are available-Personal and Developer. The Personal package costs $39.00 per year and gives you access to all 75 themes as well as all theme updates and premium technical support. The Developer package costs $89.00 and provides you with all of these benefits along with layered photoshop files (PSD) and complete access to every plugin. You can only purchase Elegant Themes as a package-you cannot purchase one theme at a time. Considering many individual themes by competing companies cost twice the annual membership fee, this is understandable.
You may download and use each theme as many times as you like, on as many domains as you like, for the rest of your life. If you cancel your subscription at some point in the future and stop paying your annual fees, then you will retain rights to use the themes you've already downloaded. You simply won't have access to new themes, updates, tech support, or the members area. That does mean the value of your membership is highest in its first year, though it's not a bad price for the annual support and new themes, particularly since updates are released around twice a month on average. After signing up as a Personal member, if you want to upgrade to Developer status, you can do that.
Theme Quality
The Elegant Themes are true to their name and retain a simple, elegant, impactful style. You'll find them easy to navigate on the company's website; they have been separated into categories for easy browsing such as Business, eCommerce, Magazine, Personal, Multimedia, Portfolio, and more. This is great if you develop a lot of websites in different niches and want to quickly find the best layout to use for your next website. Whether you're building a personal blog or you're making an ezine or a website for a startup company, you'll find plenty of choices that will offer visitors an eye-catching and unique browsing experience.
Theme Options
It is easy to modify the themes using the ePanel theme options panel. This panel allows you to adjust your layout and add or remove features without using code. General settings allow you to choose post color schemes and counts, logo images, and more; the navigation menu helps you to modify the links and menus on your site. With the layout you can easily rearrange features, and you can also choose advanced colorization for different aspects of your site, manage adds and modify the SEO tags, titles, and keywords for your site elements. A support tab takes you instantly to relevant documentation.
If you purchase the Developer package, you get full access to the plugins which you can use to improve your sites. These include a Mobile Plugin that makes your websites load properly on mobile devices regardless of theme, the Elegant Page Builder (another way you can easily modify your site design), the Maintenance Mode Plugin (this displays a message to visitors telling them your page is under development), and Elegant Shortcodes, a unique toolset that makes it easier to organize your posts. Anyone who has spent any length of time blogging knows what a pain post organization can be without the right tools. Shortcodes also gives you presentation features like colored content boxes, buttons, toggled content, tabbed content, image sliders, slideshows, pricing tables for eCommerce, testimonials boxes, and more.
Overall Value
The main drawback is of course the annual membership fee. Some services don't require you pay recurring fees at all; if you don't renew your membership, you will no longer have access to new themes, updates, and technical support. It's not a bad price at all however considering how great the support features are; and considering that you get 75 themes in your first year, it's really an amazing value. It's also pretty great that you get around two updates a month, which is higher than the average for premium WordPress theme subscription services TopFiveAdvisor has reviewed.
Even if you kept your membership for only a year, you'd get more for your money than you would elsewhere by a long shot. With the 30-day money-back guarantee, you really have nothing to lose, and within your first month you should be substantially impressed by the quality of the package to hold onto it. TopFiveAdvisor gives this service a 9.5/10, which is one of our highest ratings for any premium WordPress theme subscription service. Be sure to check out their features section to see how easy it is to customize the look of your blog theme of choice.