2
SiteGround Review
SiteGround Platinum Medal Award Winner for Best Web Hosting by Top Five Advisor
SiteGround was founded in 2004 by a few friends at a university and has grown massively since then. They currently process nearly 2,000 support requests daily spanned between all support options and operates out of three datacenters strategically positioned in North America (Chicago, IL), Europe (Amsterdam, NL) and the Asia-Pacific region (Singapore, SG).
During the evaluation and review of SiteGround, we were left impressed with the commitment to quality. Their documentation about hardware specs, setup and heck, the website layout is visually appealing and welcoming. They also have a hosting plan that is fit for anyone from competitively priced starter hosting through dedicated servers, they have everyone covered.
SiteGround Pros
SiteGround's pricing is what-you-see-is-what-you-get which is comforting. They offer some of the best customer support we've seen in the web hosting industry. Awesome documentation, awesome response times and awesome options to get the help you need.
SiteGround Cons
Overall, an excellent service with not much to pick on. We'd like to see the most expensive GoGeek plan offer more than 30 backup copies for the added monthly cost and for the lower Startup and GrowBig plans to include PCI compliance.
SiteGround Plans Review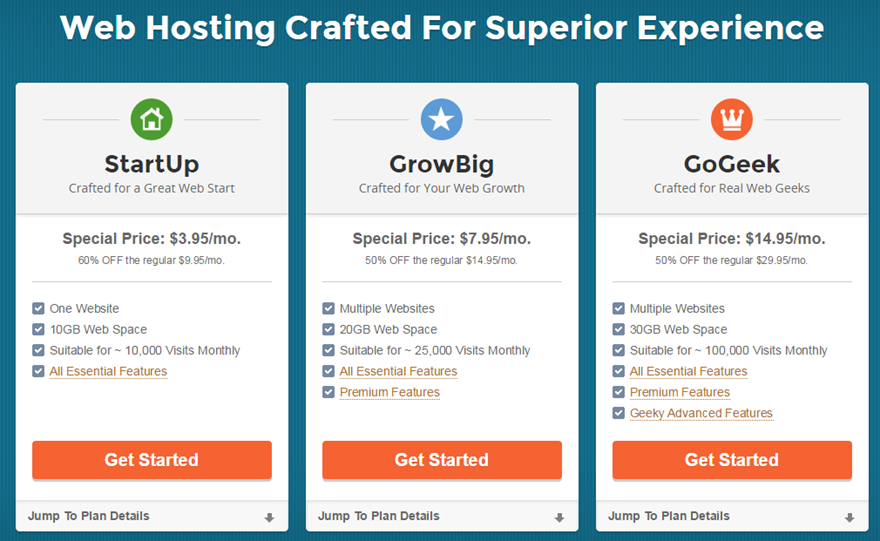 If you are new to web hosting and just getting started, the Startup Plan is the right choice for you. They will provide your website with 10GB of disk space and all the site transfer your site will need to grow and be successful.
As your site grows or your ideas expand, you'll be looking at the GrowBig package because it will allow you to host multiple (unlimited) websites on your hosting account for the same price. It also includes access to a free SSL and other features as we discuss below. This plan also provides you with double the disk space at 20GB.
Once your site is cooking on all cylinders, you'll have the option to upgrade to the GoGeek plan which includes 30GB disk space and includes "Geeky Advanced Features" like less accounts per server (higher price makes this possible and still be profitable). free PCI compliance, advanced hardware and "preinstalled Git and Staging."
Each plan comes with what they call Essential Features such as cPanel, SSH access, a free domain name registration, unlimited transfer, unlimited email accounts, a 99.9% uptime guarantee, 24/7 customer support, free daily backups, and a 30-Day Money Back Guarantee. Lastly, SiteGround will help you transfer one website to their service for free when you register. We've seen other hosts charge as much as $250 for this service alone!
Their Premium Features package that comes with GrowBig and GoGeek includes priority technical support, a free SSL certificate for ECommerce websites, a SuperCacher for optimal page loading speed and up to 30 backup copies of your site available for easier rolling back to a previous time.
The GoGeek Advantage
The $14.95 GoGeek plan provides some interesting features that rivals what we love about the WordPress hosting service WP Engine. This plan includes access to MySQL databases on a separated SSD, includes access to their premium backup & restore service, GIT comes pre-installed and access to one of our favorite WP Engine features, WordPress staging.
SiteGround supports both Joomla and WordPress with their staging feature which allows you to copy your site to a staging area, test a new plugin or update and if all goes well, carry out that same plugin install or update on the live site. This way, you will be able to test things without having to "hope it all works OK" when you click that WordPress / Joomla update button.
Cloud Hosting & Advanced Packages
As for non-shared hosting options, they offer a Cloud Hosting platform that is similar to VPS Hosting. They offer 4 Cloud Hosting plans to choose from that will fit most people's needs. The pricing for Cloud Hosting starts at $68.95/mo. If you need even more power (congrats!), take a look at their Dedicated Hosting packages that start at $217.50 as well.
These upgrades are recommended when you site starts demanding more resources that shared hosting doesn't allow. Typically, you'll only be looking at these more advanced plans when your site grows big and earning a healthy amount of money that allows for an upgrade like this.
SiteGround for WordPress
If you need, you can order from SiteGround's WordPress Hosting page which offers free WordPress transfers, a free WordPress installation, extra security and a faster experience with their content delivery network / cache options.
SiteGround Pricing Review
Sounds great doesn't it? But what about pricing, is the advertised price a "bait and switch" requiring obscene pre-payment periods to claim? You'll be happy to find out that the prices you see are available, even at the lowest pay period they allow. Here's a breakdown of the most popular plan we sell from TopFiveAdvisor, the Startup.
1 Month: $3.95 + $14.95 setup (extremely low monthly fee + competitive setup fee for monthly billing!)
12 Months: $3.95/mo + Free Setup
24 Months: $3.95/mo + Free Setup
36 Months: $3.95/mo + Free Setup
To save unneeded written text here, the GrowBig and GoGeek is the exact same thing, the advertised price is what you pay, even down to the monthly rate. The only difference is the setup fee is increased to $24.95 with both plans.
Our recommendation is to sign up for a 12-month period for any plan that fits your needs. This way, you will save the setup fees and lock in the lower rate for a longer period of time (in case they raise prices in the future). There's little rick because they offer a 30-day money back guarantee after registering. If you aren't happy, for whatever reason, you can request your money back and move elsewhere.
SiteGround Customer Support Review
Their site is configured to get you the help as fast as possible. A quick scan on their pages show their support options on the header and the footer of their website. Currently, they offer a ticket system, live chat system and toll-free telephone support. All three claim to be 24/7 and after checking at 3AM, we tend to agree, everything appears functioning even in the early AM (we're in US).
As shown in the image, they proudly announce their customer support times with phone calls and chat sessions being answered immediately and the tickets system typically getting a response within 10 minutes.
What's really nice is they claim to help you not with simple hosting issues but with application support, plugins, configuration, extensions and more.
Taking a look at their tutorials section, it is all visually appealing, we can tell they gave attention to detail providing their customers with an awesome reading experience to learn what they need to get their websites going. We also notice that their tutorials section give you the option to read what you want to learn or watch videos, whichever helps you learn the fastest. I know for me, watching videos is tedious because I'm a more advanced user and have to skip and jump to find the information I need when forced to watch videos, so I'd be one to jump to the "Read" sections to get what I need. However, I know a majority out there love video, so that option is made available which is awesome. Best of both worlds.
Overall, I couldn't find anything wrong with their customer support. Both the documentation and support channels all meet and exceed our expectations. A perfect 100% score.
Question: How has your experience been with SiteGround? Leave a review below to let our readers know!